Supervisor Romaine Lends a Hand During Recycling Event at the William Floyd Middle School
Farmingville, NY
On June 3, Supervisor Ed Romaine (left) was at the William Floyd Middle School in Moriches for the Town of Brookhaven's Spring Recycling event in Council District 6. Every year, the Town holds two recycling events in each Council District that include paper shredding, e-waste disposal and a supervised prescription drug drop-off program. Dime Community Bank has again contributed $4,000 to co-sponsor the 12 recycling events where residents can properly dispose of sensitive paper documents which, when improperly discarded, can fall into the hands of identity thieves. Residents can also dispose of e-waste and expired prescription drugs in an environmentally safe manner. Pictured are Supervisor Ed Romaine (left) with the Arrow Metal and E-Waste crew (right).

The 2023 recycling events are open to all Brookhaven Town residents for their personal, household material. No business records or medical practice records will be accepted. For more information call 451-TOWN (8696) or go to www.BrookhavenNY.gov to learn more about recycling in the Town of Brookhaven.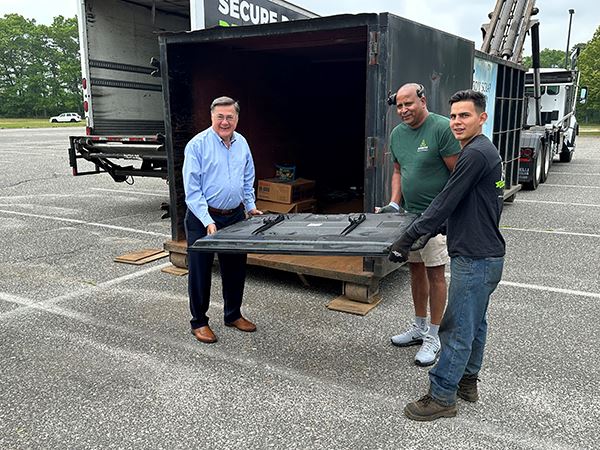 Read the article here: https://www.brookhavenny.gov/C...