How Your Community Can Host an E-Waste Recycling Event with Arrow
The steps you should take to put together a recycling day for your neighborhood
Throwing a community recycling collection day is a great way to encourage those around you to reduce the amount of salvageable scrap that gets thrown into landfills–especially when it comes to clunky pieces of technology that take effort to dispose of properly.
You can make your community feel good about retiring old IT equipment–as well as make it easy for them–by partnering with Arrow to throw an E-waste recycling event.
Why should you throw a community recycling day?
Why go through the effort of setting up an e-waste collection day? Well, old computers, appliances, and other types of e-waste can contain environmentally toxic components that can infiltrate soil and groundwater if they're simply thrown away.
Recycling e-waste lets you conserve precious metals that can be reused in the next cycle of phone or computer upgrades. Electronics, properly wiped, can also be donated or reused by others. Not only does a recycling day generate environmental awareness, but it allows families and individuals to feel good about decluttering when they know that their waste will be taken care of in a safe and effective way.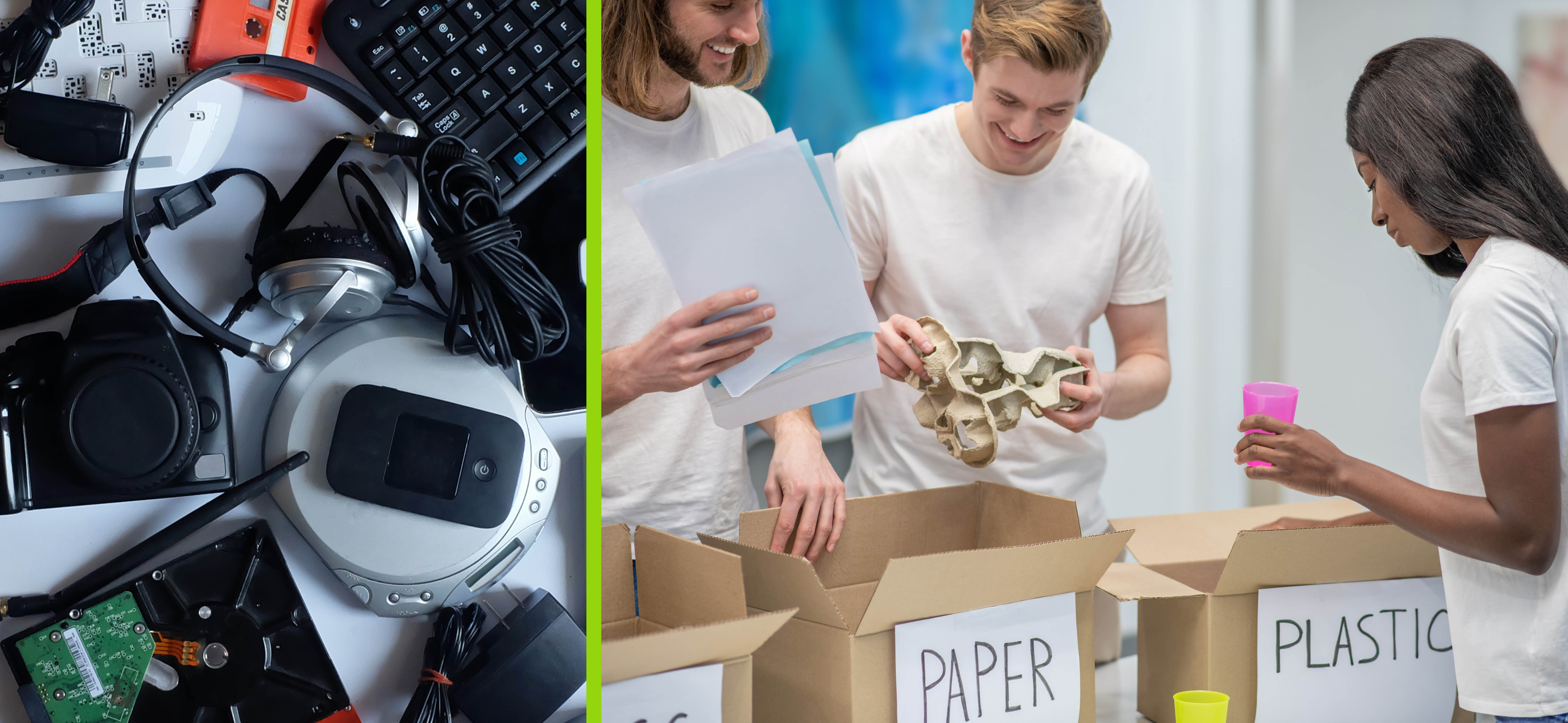 Where should you host a recycling event?
Plenty of places can serve as the right room for a recycling event, provided they're big enough, and have a large parking lot. Firehouses and libraries are great community gathering places to consider–or try partnering with Habitat for Humanity or Arrow's own facilities to throw a collection day.
What you can and can't recycle
There's plenty of e-waste you can recycle. Here's a short list: cell phones, computers, tablets, printers, scanners, power tools, televisions, cameras, and appliances such as microwaves and ovens for example. In fact, nearly all electronics can be recycled in some form.
Some dangerous components–lead and mercury, for example–should be set aside so it can be safely handled by Arrow experts. Arrow experts will help community members sort through what e-waste can and can't be recycled–and take care of the waste accordingly.

How we handle e-waste responsibly
With Arrow, you can make sure that your recycling is in the right hands. With our dedication to providing the industry's best recycling services, Arrow is proud to meet and exceed the standards set by R2-RIOS, NAID, ISRI, local, state, and federal authorities. We have been certified or are members of the following authorities on Data Destruction, E-Waste and Scrap Metal Recycling.
To learn more about how to set up a recycling event in your community, reach out to us through our website or via email, and we'll be glad to help guide you through the process of throwing an e-waste collection day.